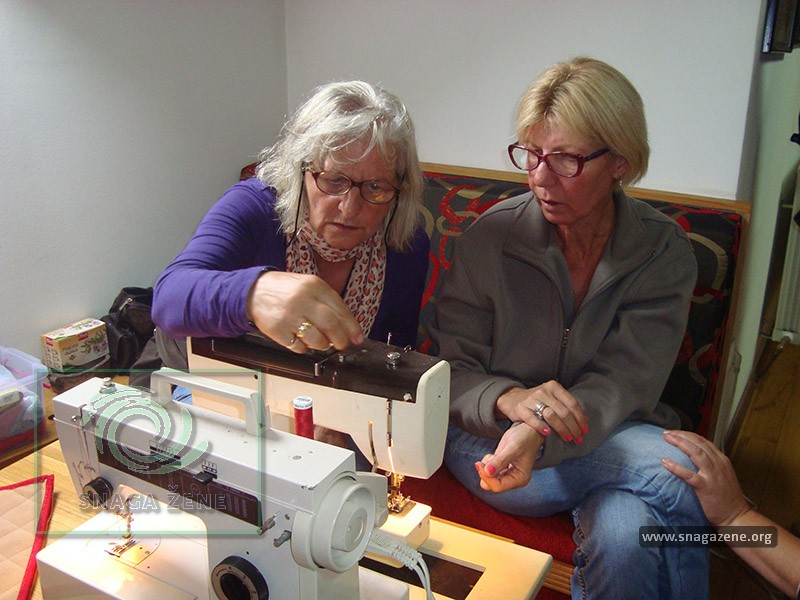 Individual psychological support
Snaga žene continuously implements individual therapeutic sessions at Snaga žene center, as well as during home visits to women in order to overcome the symptoms of post-traumatic stress, and reduce the possibility and mitigate the consequences of transgenerational trauma in children born before (mostly witnesses of their mothers' rape) or after trauma. The work of psychologists is realized through psychotherapeutic treatments focused on strengthening individual capacities, reducing stigma, establishing a relationship of trust in themselves and the world around them, raising awareness and understanding of trauma, re-establishing control over their current life, regaining self-esteem and strengthening personal competencies destroyed by traumatic experience(s).
Group psychological support
Snaga žene implements group therapeutic process in which women are able to verbalize their current situation and position they have in society and family today. Multiple problems related to their mental and physical health, social status and their unenviable economic situation, seriously disrupt the life dynamics and create obstacles in the normal functioning of all victims. The goals of group therapeutic/rehabilitation process, which is complex and continuous by itself, are strengthening of social relationships, solidarity, anti-stigma process, regaining victims' self-esteem and self-confidence, ease of mental suffering, integration of traumatic event to overall life experience 
Through work in the group Snaga žene builds interpersonal connections and trust between group members, as well as interpersonal connections and trust between the group and the therapist, which is one of the most important segments in group therapeutic work. In an atmosphere of understanding, trust and empathy, group members were encouraged to verbally express their feelings and observations and to discuss their fears, frustrations, anger and interpersonal problems here and now to define the situations that triggered anxiety. Members have shown interest in discussion and socialization and they have shown  confidence and openness  to share their traumatic story with therapist, as well as with other members of the group. The common problem, i.e. equal destiny of all victims in a certain way connected their lives and also made victims' problems closer, shedding lights on their weight and complexity, regardless of their religious and national affiliation. Group work and exchange of experiences, regardless of their severity has a healing effect and group interaction can provide multiple benefits to its members.
Psycho-rehabilitation is one of the important elements of Transitional Justice intended for victims of maltreatment and detention.